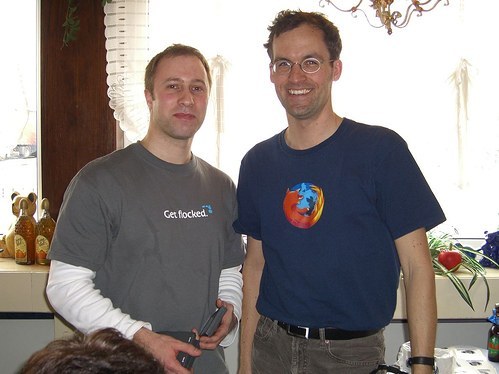 Download Files:
Description:
Image of two men standing together, one wearing a Flock shirt and the other a Firefox shirt
Text:
Firefox fan meets Flock fan

For all who don't know: Flock is a Firefox based browser for "power blogger" optimised for blogging, sharing pictures and bookmarks and all this stuff for people living online.

Steffen (left) is a big Flock fan and we meet sometimes at Palm User Meetings. Yesterday (Palm Sunday) we took the oppertunity to make a picture of us wearing our shirts. Picture taken by Peter Bartsch (PUG Mannheim). Of course we made sure that all notebooks present had Firefox installed :-)

Hope you like the pic, Jan
Source:
http://www.spreadfirefox.com/node/22930
Categories:
real world advertising: A collection of images depicting Firefox logos in the real world taken by volunteers on their own initiative and submitted to the Spread Firefox website.
Citation:
Mozilla Digital Memory Bank, Object #940, 7 June 2006, <http://mozillamemory.org/detailview.php?id=940> (accesed 9 April 2021)