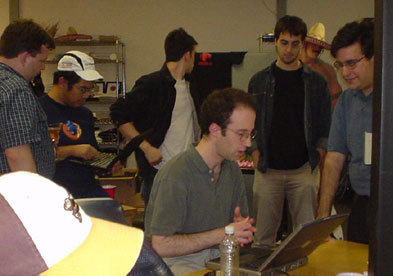 Download Files:
Description:
Chris Beard, Rafael Ebron, Blake Ross, David Baron, Joe Hewitt, Ben Goodger, and Jay Patel (hat) launching Firefox 1.0. Chris and Rafael and putting the final touches on the Firefox 1.0 press release.
Source:
Online File Form, Mozilla Digital Memory Bank
Categories:
contributor file: Objects that were contributed to the Mozilla Digital Memory Bank via the online file upload interface.
Citation:
Rafael Ebron, Mozilla Digital Memory Bank, Object #959, 27 June 2006, <http://mozillamemory.org/detailview.php?id=959> (accesed 25 November 2020)